Award-Winning Videography by Top Desi Videographer Near Me
Affordable Desi Videographer to record your special day and turn it into a love story of a lifetime. Cinematic Wedding Videography, Stunning Drone Coverage with Same Day Edit.
2021 Professional Indian Desi Videographer for Desi Weddings
Benefits of hiring a Desi videographer for a marriage ceremony?
Desi Videographer at Candlelight Studio offers you the best wedding photography and wedding videography services at the most affordable price. We have covered over 1100 Indian and South Asian Weddings at Candlelight Studio in 20 years. We have adequate experience, and we know the wedding system by heart.

Videography by Surinder Singh Perfect Desi Videographer Near Me
Wedding Videography Packages by Desi Videographer Near Me
Surinder Singh | Perfect Desi Wedding Videographer Near Me
Desi Photographer Surinder Singh – Professional Indian Wedding Photographer for Desi wedding videography and photography
Wedding photography keeps your memories alive for generations to cherish, but it doesn't have to cost a fortune.
CandleLight Studio has several affordable wedding videography and photography packages. We Desi Photographers offer something for every budget.
Desi Photographer Surinder Singh specializes in photographing traditional South Asian and Modern Western Weddings. South Asian Brides and soon-to-be couples love their wedding photography provided by Desi Photographer Surinder Singh.
Marriages are made in heaven, but weddings are celebrated on earth. CandleLight studio desi photographers capture those precious memories and moments of family and friends coming together to bless the newlyweds.
Weddings are full of excitement and anxious moments. There are many things to think about and plan. Let CandleLight Photography Studio help you by taking one thing off your plate – videos and photos. With over 1,200 shoots and sessions under our belt, rest assured desi photographers will capture your weddings in vivid detail for generations to cherish.
CandleLight Desi Studio has been recording memories for over 20 years. Whether it is a traditional Indian desi wedding or a modern Western wedding, our Indian photographers and video producers are unmatched and highly detail-oriented. CandleLight Photo Studio has captured memories that last a lifetime, and we have the portfolio to prove it.
Keeping your Indian desi wedding within its budget is important, and photography is no different. Our affordable Indian wedding packages are value-priced, with several options to choose the package that offers the most value for your price range.
CandleLight Studio desi photographers will immortalize your special moment so you can relive your Indian wedding day in detail forever. We promise you're going to love Candlelight Studio!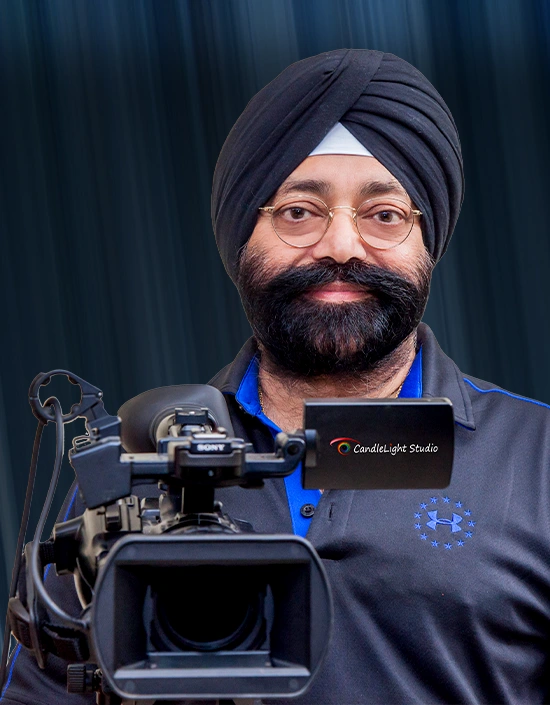 Desi Photographer Surinder Singh is a professional wedding photographer capturing tying the knot moments for couples of various ethnic and religious backgrounds for over 20 years.
Certified by the American Wedding Group, Desi Photographer Surinder Singh is culturally sensitive and has an eye for detail and a passion for capturing rich wedding traditions.

Texas Desi Photographer for Wedding Photography in Houston
Professional Wedding Photography by NJ Desi Photographer
Indian Wedding Photos
Indian Wedding Videos
Indian Wedding Photography Near Me and Wedding Videography Near Me
Indian Wedding Photographers Near Me and Wedding Videographers Near Me
Candlelight Studio was founded in 2000 in New York and has captured beautiful moments since its inception. We pride ourselves on connecting the dots and creating a story worth telling and seeing through photos and videos.
We provide Photography, Cinematography, and 4K Videography services for Weddings in and around New York, New Jersey, Houston, Texas, and surrounding areas.
We know that there are brides from different cultures and traditions. We have covered a wide repertoire of weddings from American, Jewish, and Latino weddings to Indian, Pakistani, Guyanese, Bangladeshi, and a variety of others.
Candlelight Studio ensures that we deliver only the best service and ensure that you are included and engaged with your audience and your story.